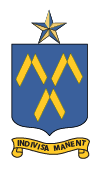 Our Lieutenancy is very honored to have a significant role in partnering with, and supporting the works of Bethlehem University.
     Bethlehem University of the Holy Land is a Catholic Christian co-educational institution of higher learning founded in 1973 in the Lasallian tradition, open to students of all faith traditions. Bethlehem University, the first university established in the West Bank, can trace its roots to 1893 when the De La Salle Christian Brothers opened schools in Bethlehem, Jerusalem, Jaffa, Nazareth, Turkey, Lebanon, Jordan, and Egypt. Today, Bethlehem University's mission is to provide a quality higher education to the people of Palestine, and to serve them in its role as a center for the advancement, sharing, and use of knowledge.
     The Sir John McGuckin Mentoring and Internship Program founded in honor of our late Lieutenant, Sir John McGuckin, KGCHS, and funded through specific donations allows students of the university to come to the United States to experience life, culture, and work challenges outside of their native homeland and assists in preparing them for work and service in the global marketplace.